Nashville Student Loan Debt Resolution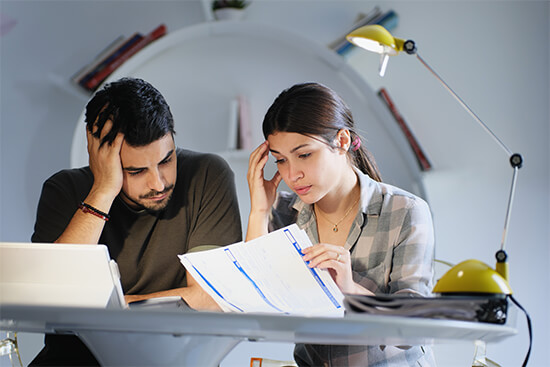 Our firm will help you with addressing your student loan debt burden in Nashville and all of Tennessee. Our Student Loan Lawyer will work with you to find the best options available for you and your current situation. We understand how student loan debt can seem overwhelming, frustrating and confusing for our clients. In many cases our clients are struggling to address the total amount of their student loan debt that has accumulated due to high interest rates and skyrocketing tuition costs. Oftentimes the minimum amount of the monthly payments that has become due is far out of reach. We can assist in getting you a much more reasonable and affordable monthly payment.
Federal Student Loans
There are several Federal Student Loan repayment and forgiveness options that are available to our clients to address their Federal Student Loans. Once we ascertain the kind of Federal Student Loans you have, i.e. Stafford, Perkins, Direct, Parent Plus, we can then explain what repayment or forgiveness options are available to you. We can assist you in getting your student loans out of Default and performing.
Private Student Loans
There are Private Student Loan options that are available to borrowers who are struggling with their private student loan payments. Depending on the status of these loans, repayment or default, negotiating agreeable and affordable terms can be arrived at. Our very experienced Student Loan Lawyer can pursue the best terms available that may include a reduction of the balance and the monthly payments.
Student Loan Debt Settlement
At Marshall & Associates, our experienced student loan debt attorneys are available to help you with student loans that were issued by private banks. You may have received a funding from College Ave, SallieMae, SunTrust Bank, Discover Card Student Loans, LendKey, or Ascent to name a few. Once all the loan documentation is provided, along with current collection letters, we will start the process of evaluating what settlement options can be negotiated. We will contact those financial institutions and collection agencies and diligently work to secure the best deal we can for you. We have a history of negotiating substantial balance and interest reduction and elimination under the right circumstances and conditions.
Why hire a Student Loan Debt Settlement Attorney?
At Marshall & Associates, we bring the experience you need to help resolve your educational and student loan debt issues. The lending institutions are very unforgiving at times and we will be the attorneys on your side, fighting for you every step of the way. Debt collectors can be relentless and even have been known to call your work and relatives. We will work diligently to get you the immediate relief you deserve and a payment option that you can afford.
Obtaining Your Student Loan Report
Our attorneys have prepared detailed directions for obtaining your report in PDF format. Please click here to download.
Forms and Applications
The following forms and application links are provided for your reference and use by the attorneys at Marshall & Associates, PLLC. If you have any questions about the application forms below, call us at (615) 855-4335. We are glad to help 
Public Service Loan Forgiveness Application
Direct Student Loan Consolidation Application
Income Driven Repayment Plan Application